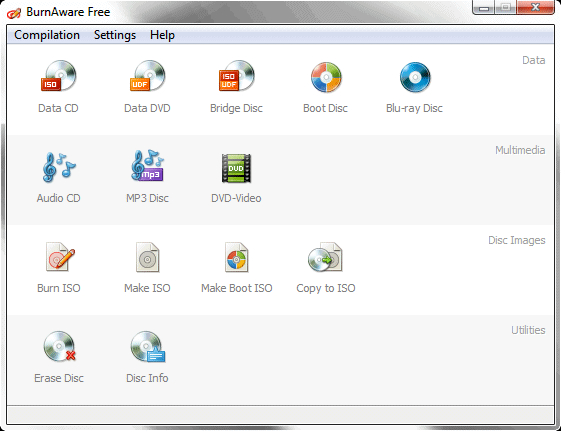 ดาวน์โหลด BurnAware Free 5.0 โปรแกรมเขียนแผ่น
BurnAware Free ออกเวอร์ชั่นใหม่มาให้ใช้กันแล้วกับโปรแกรมไรท์แผ่นฟรีที่รองรับการเขียนแผ่นทุกชนิด โปรแกรมรองรับการไรท์แผ่น CD/DVD/Blu-Ray โดยโปรแกรมมีหน้าจอหลักให้เลือกใช้ว่าเราต้องการเขียนแผ่นชนิดใด ซึ่งก็มีตัวเลือกอย่าง Data Disc ซึ่งไว้สำหรับเขียนแผ่นข้อมูลทั่วไป, Audio CD สำหรับใช้เขียนแผ่นเพลง, MP3 Disc ที่ใช้สำหรับเขียนแผ่นบรรจุเพลง MP3, DVD Video ที่ใช้สำหรับเขียนแผ่นหนังดีวีดี เป็นต้น นอกจากนั้นโปรแกรมก็ยังรองรับการใช้งานไฟล์ ISO สามารถเขียนแผ่นจากไฟล์ ISO หรือสร้างไฟล์ ISO จากไฟล์ในเครื่องหรือจากแผ่นจริง โดยในเวอร์ชั่นล่าสุดก็มีการเปลี่ยนหน้าตาโปรแกรมนิดหน่อย มีการรวมฟังก์ชั่นบางตัวไว้ด้วยกันเพื่อให้เรียกใช้งานได้ง่ายขึ้น
ขนาดไฟล์: 9.64 MB
ประเภท: Freeware
ผู้พัฒนา: BurnAware
ดาวน์โหลด
BurnAware Free is a full-fledged disc burning tool - fast, lightweight, feature-packed and, most importantly, free. The program burns all types of CD, DVD and Blu-Ray discs containing data, digital photos, music and video. With BurnAware Free, you will be able to create bootable or multisession CDs and DVDs, high-quality audio CDs, make and burn disc images, copy and backup discs.
What's new in this version:
Version 5.0 has added "Data Disc" and "Custom Disc" instead of "Data CD","Data DVD","Bridge Disc".